Amidst feature articles, essays, and tests, simple knits are heaven. Considering the only time I have to knit is on the train at the moment, I want quick knits, too. Here are some finished knitted objects from March:
This hat was fairly simple but the yarn drove me crazy. My wrist hurt everytime I worked on this because of the lack of elasticity and the constant splitting. I'm glad it's done. Something seemed off about the decreases or maybe it was me, so I  just winged it.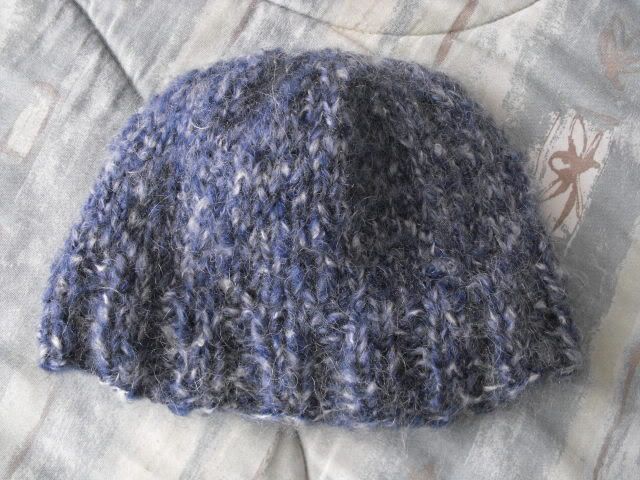 Started: March 12, 2009
Finished: March 13, 2009
Needles: 6.00mm US 10 -- magic loop
Yarn: 0.5ish skeins of 
Patons Divine
 from donation to charity (Denim Storm)
Same comments as before. Does seem like it would be warm to wear and it's long enough to wrap around one's face for cold days. :)
Started: March 13, 2009
Finished: March 28, 2009
Needles: 6.00mm US 10 
Yarn: 1.5ish skeins of 
Patons Divine
 from donation to charity (Denim Storm)
Pattern: Just cast on 20sts and knit until the yarn ran out.
I bought the yarn for this project because I just happened to be near Lettuce Knit. So, funny story. I cast on for these at school when I was tired. I thought I was knitting the Evenstar Gloves. I couldn't wait to subtly show off my Lord of the Rings pride. Later that night when I looked down at what I was knitting, I could not understand how the cables I had would form anything like the Evenstar gloves. I re-read the top of the paper. There in blue ink I had written "EVANGELINE" weeks ago. Oops! I decided to just carry on and knit them out. Two-at-a-time, too! These finished in a week. 
Started: March 21, 2009
Finished: March 29, 2009
Needles: 3.25mm US 3 -- magic loop, two-at-a-time 
Mods: Added a thumb gusset by increasing stitches until I had 13sts and put those on a "stitch holder" (read: scrap yarn and an elastic band). Then picked up 4 sts, knit a round, k2tog and knit rest of round, then k2p2, then bo in pattern)
For: Me -- to match my pink spring jacket!
That's it from the past few days! I finally finished a sweater I have been working on for some time now but photos for that will come once I find grosgrain to attach to the button band. I think I will cast on for a pair of
Toast
next with some squishy yarn I bought at
The Purple Purl
.
On a side note, school needs to end soon so I can experiment with baking (and working out.) Though I have a lot of ideas for new projects, requiring new yarns, this spring/summer I want to get through most of my yarn stash. This means: socks, a sweater or two and knitting partners for my single mittens and sock.